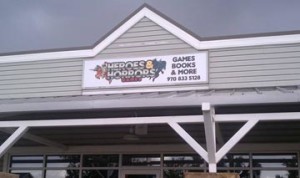 We're one of Northern Colorado's newest game and comic stores, located in Windsor, CO!

Heroes and Horrors Games & Comics carries fine quality board and card games for all ages. We sell items for collectible card games, role playing games, and Warhammer. We are proud to have one of the largest collections of Magic the Gathering card singles for sale in Northern Colorado. In addition to all those games, Heroes and Horrors carries a huge variety of comics, manga, graphic novels, and collectible figures. We sell used sci-fi and fantasy books for your reading enjoyment. The store has a growing selection of used video games as well.
Come Play with Us! Participate in one of our weekly game events or try out a new board game during open play time.  Our game room has seating for 24 and a growing game library of over 160 card and board games.
Currently the game room is available for open play:
Tuesday through Friday from 2:30 to 6:00 p.m.
Thursday from 6:00 to 9:30 p.m.
Saturday from noon to 5:oo p.m.
Sunday from 5:30 to 9:30 p.m.
These times may change as new groups form or others change days. Feel free to give us a call, (970) 833-5128, with any questions.
See our Calendar for the listing of current organized play events.  We regularly have Magic the Gathering tournaments, Warhammer 40K, Dungeons & Dragons, Pathfinder, and board game night.